The Town gets mad crepe-y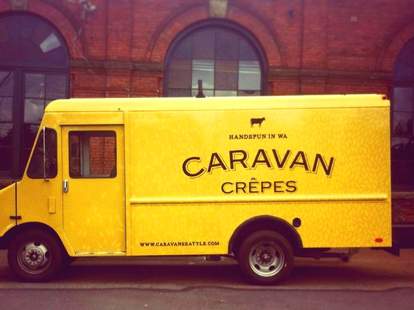 Hawaii's most famous foods include chocolate-covered macadamias, and Hey Guys, could you use an extra 2-3in.? Click here! SPAM, but luckily for you, at least one cafe on Maui apparently makes crepes that're sweet enough to inspire Seattle's newest food truck. So if you're not too busy helping a totally legit Nigerian businessman transfer 47 million rupees to your checking account, scroll down to see the delicious pancakes Caravan Crepes's serving-up:
Offered with a side of organic mixed greens & sour cream, savory options range from the Oooh Special! w/ Bob's Spicy Italian sausage, Bavarian feta, fresh tomato & spinach, to the Brie, bacon, peaches & sweet onion chutney-filled Wedge featuring a combo of flavors that -- unlike its namesake Eric -- makes it a winner. They also do sweet stuff w/ flavors that include chocolate, strawberries & cream, roasted almonds, and Maui cane sugar -- you can combine as many of them as "you fancy", though that should already be obvious considering you are eating crepes.
To get in on all this crepe action, keep an eye out for CC on Beacon Hill and in S Lake Union, or just fly to Maui using the rest of the Nigerian royalty money you haven't already spent on "personal enhancements".