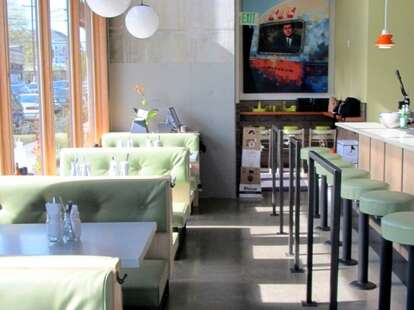 Finally settling down in one place can be a scary proposition, especially if that one place is Everett. Ewww. Cleverly setting up permanent shop in a place that's decidedly not-Everett, Skillet Diner
Skillet, the seminal Airstream-based street-foodery (and inventor of Bacon Jam) is now slinging mostly new takes on edible Americana in an immobile window-walled 60-seater, decked with concrete, blonde wood, a mid-century diner-style counter/bar, vintage cookware, and a pop portrait of JFK done in a jumble of multicolored pixels -- something you'll be familiar with if you use a web Camelot.
Dinner options include a rotating list of classic specials (Duroc pork/ beef/ bacon/ onions Mama's Meatloaf glazed w/ "ketchup demi"; pot roast served w/ rustic bread "for dippin'"), and everyday mains like guanciale/ pecorino Macaroni 'n Cheese w/ English peas, and a traditional Salisbury steak -- a ribeye braised in brown gravy, as opposed to Shannon Brown gravy, which is exclusively reserved for Pau's girlfriend.
Daytime eats mean Skillet's signature burger w/ Bacon Jam, arugula & bleu cheese; the Fried Chicken Sammy w/ pickled/charred jalapeno & kale slaw; and a breakfast menu boasting a pork belly & cornmeal waffle (maple-braised & topped w/ a fried egg), and The Barry Sandwich w/ guanciale & a fried egg on a "big boy" biscuit, too many of which'll definitely affect The Way You Move. There's also bar eats like cheese/ gravy-topped Poutine (a trailer fave), and signature 'tails crafted w/ house-infused liqueurs, including the black spiced rum/ Maraschino syrup/ plum brandy Back in Black, and the maple bitters/ ginger liqueur Hey Jack Kerouac, three words typically followed by "Promise me you'll never go On The Road to Everett!"