Opened with help from the dude behind Japonessa, and helmed by a guy who used to work at the United Way of King County but would clearly rather make a donation to your waistline, Diablo Food Truckz is turning out next-level takes on traditional Japanese Yakisoba Pan, and if they aren't the King County of sandwiches, they're at least the Pierce County.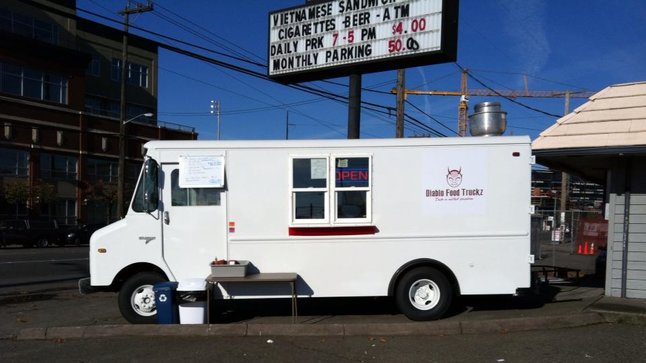 If you're not satisfied by Diablo's simple and straightforward exterior, be satisfied by the fact that you can park monthly in this lot for $50!
Basically a noodle sandwich, this thing starts with Yakisoba that's pan fried in what it sounds like you should definitely go on after you're done eating: a wok.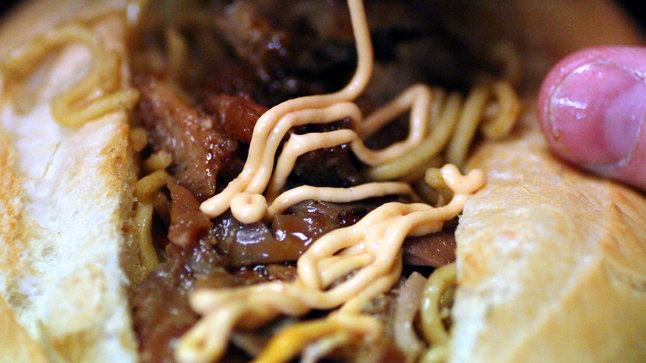 After it's piled onto a French roll with teriyaki beef or chicken, they top it with spicy aioli and one of three increasingly hot chili sauces made by the Japonessa crew special for the Diablo.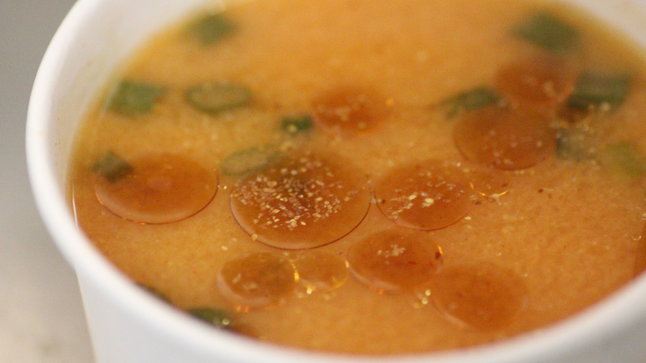 Not to be confused with the plaintive cries of "me so hungry" that you'll utter while watching your sandwich get assembled, this miso soup is the truck's one side dish.
Because he's so charitable, the owner suggests you squeeze this glorious pile of carbs into a manageable shape so it can make its (united) way down into your very needy stomach.