Matt's in the Market is something real estate agents typically hear when pilot season ends and Mr. LeBlanc is forced to find yet another smaller house a go-to spot for both tourists and creative edibles, as evidenced by their recent deployment of this frozen, pureed take on traditional kimchi that makes seafood dishes like oysters taste like seawater, if seawater was flavored with delicious herbs instead of salt.
Recommended Video
It's Worth Getting Sloppy For This Grilled Cheese Taco
Previous Venue
Next Venue
Venue Description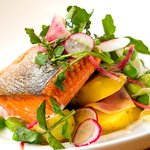 1. Matt's in the Market
94 Pike St, Seattle, WA 98101
You'll find this bar/restaurant hybrid inside Pike Place Market, where you can order seasonally changing dishes made with lots of local ingredients. It's a bit of a labyrinthine path to find it, so you aren't going to just stumble in unless you were looking for it, and they seem to like it just fine that way. Call ahead and get yourself a big table in front of the window so you can watch the sunset over Puget Sound.