Your game day'll be incomplete if you pass like Tarvaris, or on this recipe from one of The Town's top snack-slingers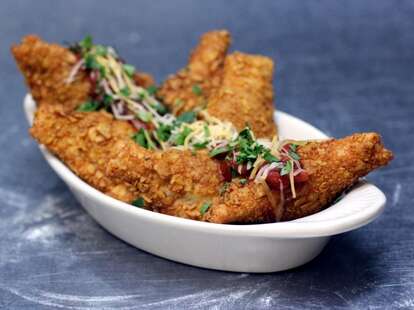 Because Super Sunday is the only thing helping you pass the time between Seahawks rebuilding years, Primo's Max and Able Borthwick are lending their Ital-ents to your game day festivities with their significantly less boring take on nachos, Fried Taco Ravioli... with freakin' Doritos! Just follow these simple step-by-step instructions:
Step 1: Homemade Ravioli Dough Though it may sound complicated, this ish is really just eggs, flour, and water mixed together before you knead for 5min on a flat surface and roll out, which sounds Ludacris until you realize it made it to number 17 on the Billboard chart! This part of the recipe is the sheeeet... of pasta that you'll need
Step 2: Beef Filling Throw some ground beef in a pan and add a little taco seasoning -- then, if you want to, toss in some fresh jalapeno (or queso, or salsa...), mix it up, and put it in the fridge, presumably because it's Perry-ishable.
You can sub in some fajita-style chicken, or anything else, if you don't want beef, son! But either way, click here.
Step 3: Assemble The Ravioli These 'ritos-breaded triangular pockets require a few different steps (cutting the dough into equal squares, washing your hands...), but, like the decision to start anyone not named Tarvaris at QB next season, are actually dead simple to make.
Click here for each of said steps, then serve with salsa, queso etc., preferably cold -- just not as cold the revenge the Hawks are planning on the Steelers.