Seattle's cheesiest food truck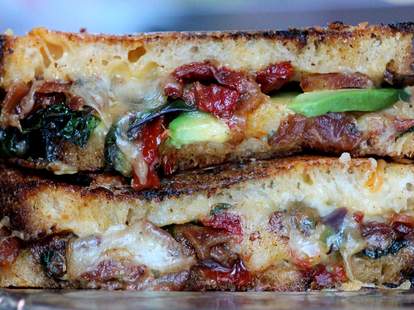 Since your average grilled cheese experience is typically characterized by watching your father angrily search for some Kraft Singles while your mom's at book club (doesn't she know the damn game's on?!?), expect wayyy more positive results at this version. The former farmer's market pop-up turned permanent mobile food operation is helmed by a California transplant who uses local artisanal breads and cheeses to create adult takes on kids' favorite sandwiches, which would ordinarily include Rosario Dawson, Casper, and that other sad chick.
The rotating list of pressed fromages includes the Classic w/ a blend of three local cheddars on housemade brioche, and an awesomely ambitious number topped with Samish Bay Creamery Aged Chipotle Cheddar, house-smoked bacon, caramelized onion, sun-dried tomato & avocado called the Super Deluxe, probably 'cause they should've started selling it Years Ago. Besides sandwiches, the truck's stocked with tomato basil soup "shots" for 50 cents (so you should be able to take, like, nine of those) and, in keeping with their no utensils policy, macaroni & cheese "cakes".
If you don't like cheese that much, just shoot that sucka in the head like Slim Charles, or try TGCE's pastrami & caramelized onion-aided Reuben, plus dessert options like a Grilled S'more, which's also what dad thinks your sandwich can be... right up until the smoke alarm goes off. Thanks for dinner, pops!