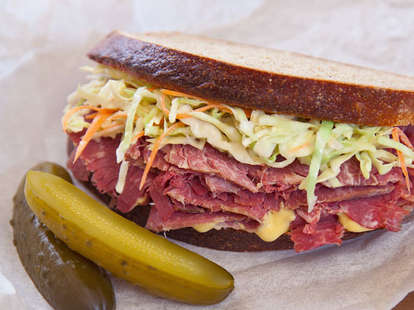 There's a story about Mercer Island, and it goes like this: one day Bill Gates knocked on Jack Sikma's door and offered to buy his house. When the Sonics legend declined, Gates doubled the offer, Sikma relented and everyone lived happily ever after, except his son Luke, who'd really liked his bedroom. Is this story true? Possibly, but what is definitely true is that MI's got a new Jewish deli called Stopsky's.
Named for the owner's emigre grandfather, Bill Gates' presumed new fave deli's serving up modern Northwest takes on traditional Jewish eats, all turned out by a Crave/Top Chef vet in a 36-seat space split between a retail side (boasting a glass-fronted counter/open kitchen), and a banquet'd dining area arted with dozens of black-and-white family photos and decked with raw-wood wainscoting. Comestibles start with sandwiches like a matzoh-dusted & pan-seared Smoked Whitefish Schnitzel w/ tarragon-pickled egg salad on a kaiser roll; the sauerkraut/ horseradish aioli Tongue & Salami Choucroute on fresh potato bread; and a Robin Reuben on seeded rye w/ corned beef, Emmentaler, sauerkraut and Russian dressing, though you can also get the big furry hats on the side. Other deli-cacies range from soups (a horseradish sour cream-topped Borscht that comes either hot or cold, and traditional or sweet-and-sour), to Stopsky-exclusive "noshes" (beef-stuffed Savoy cabbage rolls, chicken liver mousse stuffed w/ pickled egg), to breakfast options like corned beef hash, and souffleed pancakes w/ caramelized apples & whipped cream flavored w/ cardamom, also a slick way for bartenders to hit on MILFs
Thanks to one of the dudes behind the Columbia City Bakery, Stopsky's also slings a schton of baked goods including potato, babka, and "challah-at-your-boy" breads, plus fresh bagels they'll use a handpress to roll out, which is exactly what Sikma did, despite Luke's vehement doubts that there'll ever be another room with two skylights and a reading nook.