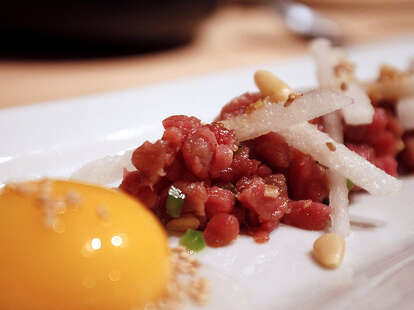 Using Western techniques is either a good way to get your university in trouble for giving Shaq a car/Penny Hardaway a house/that white dude no one knows a tractor, or a sweet way to prepare classic Korean eats, as evidenced by new Pike Place spot Cha:n. And since the low-slung, courtyard-adjacent eatery (from the dude behind Bacco Cafe upstairs) is slinging mostly modern & traditional small plates, dining won't cost you a bag of money, which is what that white dude no one knows' parents also wanted on top of the tractor. And he wasn't even that good! For a closer look at the menu, just make like Western after Nick Nolte's press conference, and go down.
Traditional offerings include braised short ribs w/ fingerling potato & fried rice cake; steak tartare w/ Asian pear, toasted pine nuts & quail egg yolk; and a braised daikon-/grilled asparagus-sided Black Cod that's been poached, possibly as a slap in the face to the people behind Washington State's Fishing Quotas. Or just because it's a cooking technique.
More modern menu items range from a deep-fried, sweet & spicy glazed rice cake on a stick, to chili-caramel-glazed fried chicken wings, to a scallion-/homemade mayo-topped pork belly slider, which is also a nickname Professor Maximillian P. Arturo earned when he discovered that bacon exists in all dimensions.
If you're still not fat enough to feel confident after dinner, try some dessert (ginger creme brulee w/ candied ginger, rice beer sorbet), then wash it down with one of their Asian-inspired specialty mixed drinks, also what Nolte was forced to resort to doing after that high school coaching gig didn't work out.