Modern Vietnamese street food in Downtown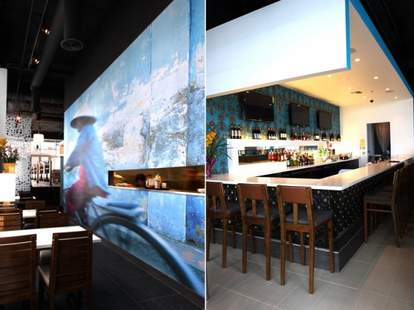 The desire to share the comforts of home with others can be powerful, which explains why the Mariners generously allowed visiting teams to win well over half the games played at Safeco last year. For a Vietnamese take on the kind of home cookin' the M's have been foolishly sharing with other squads for years, check La Lot.
Boasting an unfinished box of a bar, and a massive mural of a woman pedaling through Vietnam streets, this glass-walled 80-seater's helmed by a family of Pho vets, and serving up an impressive list of way-more-than-noodles inspired by homestyle street eats from the Far East (so, like, Issaquah? Or Cle Elum?). Offerings include traditional favorites (Oxtail Pho in beef broth, Lemongrass Pork Vermicelli); make-your-own-wrap platters w/ Betel Leaf Beef, Viet Sausage, Shrimp Cakes, etc; and grab-able "Goi Cuon" like the sesame chicken w/ jicama, rice vermicelli & fish sauce, or the sausage/egg/dried shrimp Saigon Rolls, as opposed to Saigon roles, which're pretty much limited to a couple episodes of Entourage. If, like 43% of critics on Rotten Tomatoes, you also enjoy Specials, they've got dishes ranging from the balloon-like Viet Crispy Donut made w/ coconut-infused sweet jasmine rice, to Wine-Braised Short Ribs w/ shiitake mushrooms, to a chicken, duck, or prawn Viet Curry.
And even if you don't like superhero movies w/ Rob Lowe and Jamie Kennedy, there's a full range of bar-sized eats like Fish Cakes w/ tangy aioli, and fried Crispy Wings, plus bar-sized drinks, including a list of specialty 'tails that's currently TBD, just like who the real home team is during most games at Safeco.