Celebrating National Berger Month sounds absurd (dude only did eight episodes, AND broke up with Carrie on a Post-it!), until you realize it's National Burger Month and it means Chef Seis Kamimura from Downtown destination RN74 has dropped two new ground-beefwiches that're both apparently the "love-children" of France and America, so expect the below burgers to grow up snottily refusing to talk to themselves. The Croque Madame Burger: This take on the bistro classic features house-ground Painted Hills/Double R Ranch beef topped w/ Virginia ham, a fried egg & Mornay sauce, as stocking Rebecca De Mornay sauce is Risky Business. The Royal: Definitely not pronounced Roy-AL no matter what its French side says, this sucka pretty much gives the finger to other meat-discs by featuring a "fancy" sauce, slow-cooked short ribs, and a piece of seared foie gras, all of which should be quite enough to get you Sex in this City.
Recommended Video
Roasted Red Pepper Deviled Eggs: Perfect for Parties, Grandma-Approved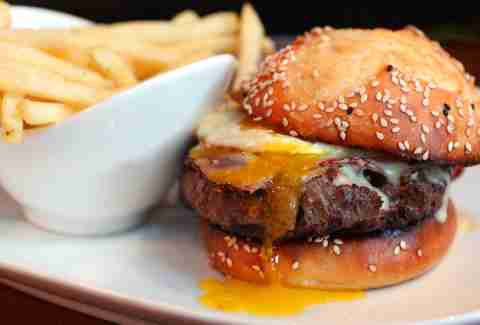 Previous Venue
Next Venue
Venue Description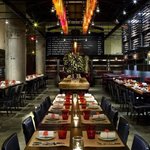 1. RN74
1433 4th Ave, Seattle, WA 98101
Restaurateur Michael Mina reproduces a version of his San Franciso original in Downtown Seattle with RN74, bearing the same name as a highway in Burgundy. The French bistro menu has upscale international touches (seen in signatures like ahi tuna tartare, roasted foie gras, seared halibut, steak frites au poivre) that are enjoyed under a dramatic row of yellow and orange cylindrical lamps hanging form the high ceilings amid concrete pillars. Bottles of wine sourced from Burgundy, Washington and Oregon and their prices are listed on a series of throwback train ticker signs, with letters and numbers flipping to update with new arrivals. Pride is taken in the bar's version of the classic French 75 champagne cocktail (and a couple twists on it, served with lemon twists).