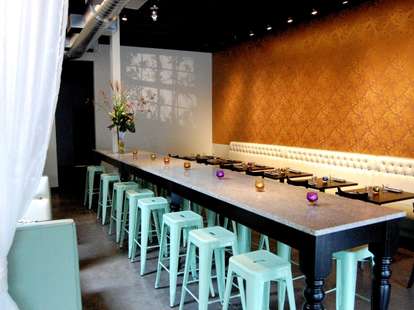 It's easy to look back fondly on the Colonial period, especially after comparing it to the dastardly depressions and unexpected hot flashes sparked by the Colonial menopause. Giving you an even better reason to prefer Colonial Hong Kong than weird allusions to lady problems, Bako.
Transforming the venerable opened-during-WWII Jade Pagoda, this spare brick-walled 49-seater's serving modern takes on Cantonese-style eats in a gauzily curtain'd space rife with touches inspired by Hong Kong's not-too-distant Colonial past, including subtly updated period furniture, photos of '60s-era movie stars, and a mural advertising Fortune Cigarettes, which predict your life span will dramatically drop with their use, though for a brief time, you will have a lot more fun...in bed!!
Eats mean mains like a boneless jidori Chicken Hot Pot w/ black mushrooms & escarole; Northwest Clams in Black Bean Sauce w/ garlic & rice; and Tea-Smoked Scallops w/ lapsang souchong, mushrooms & a spice bacon, who clearly got in contact with the network after they saw him reveal his little Hollow Man.
Smaller plates include housemade Shrimp Chive Potstickers w/ kabosu citrus dipping sauce, as well as a 3-5p "Foursies" snack menu featuring Man Tou buns and a Braised Peanut Salad, though be warned that consumption will cause you to hear parents and teachers as "Wahhhh Wahhh Wahhhh".
Behind the bar there's a cleverly conceived list of specialty 'tails divided into three categories ("Classic Variations", "Colonial Heritage", and "Bako Now") that're further broken down by key spirit, "taste", and "effect", which during the Colonial period consisted mainly of bloating and complaining about how you never put your blunderbuss back in the drawer marked "blunderbusses".