Bringing the Mediterranean to Cap Hill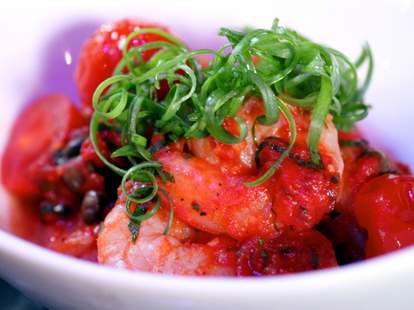 The mechanic at Luda's garage might be fine with Paul Walker ignoring the question "Where'd you get the Evo from?", but you'd never put up with that, so thankfully there's now an answer: from the guy behind legendary drink-spot Rosebud. The tapas kitchen will offer up an array of Euro-inspired small plates, artisan 'tails, and presumably generous wells, so if you want to see what they've got in-store for you, Fast & Furious-ly scroll down.
The Space: Entered through a cobweb of cinder blocks, the 140-seater is dominated by a U-shaped bar, boasts a wall of benches lining the dining room, and features a towering ceiling that allows them to project time-lapse videos of various sweet Seattle 'hoods... so don't get your hopes up, Lake City.
The Stuff: Tapas range from meat-based dishes (herb-braised pork belly), to seafood ("gambas"-style prawns w/ toasted garlic & baby heirloom tomatoes), to parma ham/roasted garlic cream/crimini mushroom-topped flatbreads. Behind the bar they're doing red & white sangria, and signature 'tails like the harvested-directly-from-nerd-pillow Virgin Tears w/ tequila, amaretto & lime, plus a martini w/ stuffed feta cheese olives called the Dirty EVO, presumably because -- except for the first flick-- that's how Paul's ridin'.