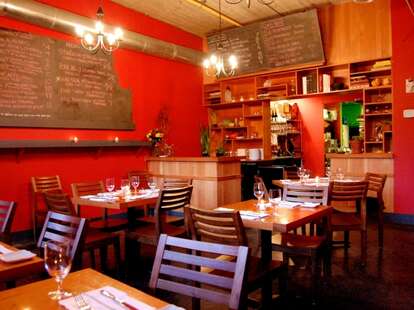 Strip malls are often derided as part of all that's wrong with America, especially when people realize that they're not even collections of stores where everyone dances around nekked to "Pour Some Sugar On Me" while shopping for Arden B's classic contemporary fashions with a simple, sexy feel. Attempting to redeem the strip mall via damn good food, Blind Pig Bistro.
Opened in the same charmingly strange strip mall space that used to house Nettletown, and before that Sitka & Spruce, this 20-seater's been, um...spruced up with the addition of some cozy red paint, and a reclaimed chalkboard displaying a constantly rotating menu of affordable elevated small plates prepped by a dude who cut his teeth at Mistral, which probably explains why he then opted for working with softer foods at Anchovies & Olives. Most of the dishes are starter-style eats served cold, including Chioggia Beets w/ anchovy, persimmon & wild watercress; Steelhead Gravlax w/ fennel, pickled radish & horseradish yogurt; and Manila Clams served w/ Swiss chard & black-eyed peas, the addition of which clearly makes it a dish You Just Can't Get Enough of. They also do mains that can be ordered in either half or full portions, and range from Skirt Steak w/ Chanterelles, potato confit & salsa verde, to charred carrot-topped Pork Belly w/ sunchoke puree, and Brussels sprout- /currant-sided Sturgeon w/ capers, though no word on whether they are jewel heists, bank robberies, or just something else fishy.
BPB also offers a few true apps ($3 Kumamoto Oysters w/ grapefruit granita), as well as "dessert" in the form of cheese plates like a Fiore Sardo w/ housemade membrillo, or an Azul Penacorada with every strip mall denizen's second favorite song to get nekked to, Lady Marmalade.