A fresh Mextaurant comes to Eastlake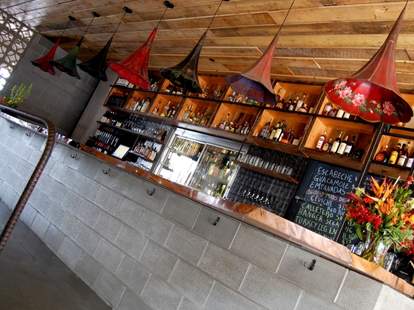 They say if you can make it in New York you can make it anywhere, a statement supported by the fact that almost everything is manufactured in China. For the first Seatown venture from a chef who spent years manufacturing quality eats in NY, check out Little Water Cantina.
Opened by a French-trained chef whose resume includes Brooklyn's Henry Public/producing on Top Chef, and sous'd by a Rick Bayless-vet, this modern cinder block-heavy 150-seater (named for the Chinook translation of "Lake Union") is serving up Northwest takes on traditional comida, all in a LEED Platinum certified space cannily decked with a well-burled 24ft madrone wood bar illuminated by seven converted antique gramophone horns, and a wall constructed with 800 tequila bottles reclaimed from "dumpsters at a lot of Mexican restaurants". Eats mean milk-braised Turkey Leg Enchiladas in a white hazelnut mole sauce; shrimp topped w/ a garlic Mojo de Ajo sauce; and tacos stuffed w/ either salmon, veggies or oxtail that's been coffee- and Ancho chili-rubbed, which is the best way to show your meat some TLC. On the specialty 'tail front there's the Spicy Fogo w/ Cachaca, Serrano chilies, mint & pineapple; the Jacana w/ grapefruit, lime, tequila, and Grand Marnier; and the rum/ mint/ Champagne Old Cuban, not to be confused with the Mark Cuban, which has wayyy more bitters.
LWC also boasts a 2200sqft patio with lake views; apps ranging from housemade chorizo Empanadas, to sashimi-style tuna ceviche; and six taps pouring craft brews like Boundary Bay IPA, and a Kellerweis Hefeweizen from Sierra Nevada, which is another place that's hard to make it, especially considering you're going to be an average elevation of 5,499ft high.