On Thursday nights, Hunger 2.0 in Fremont is serving a super limited supply of pork belly Reuben sandwiches so indulgent that eventually they may make you start looking like that far less appetizing kind of Ruben (Studdard). Here's how they do it: First they smoke whole pieces of pork belly, then cut 'em up into enough pieces for just nine sandwiches. Nine. And don't bother asking for seven of 'em -- who do you think you are Chakotay from Star Trek: Voyager? Next the pork gets grilled, and thick slices of brioche are toasted in what your nickname would be if you made these all the time at home (yes, lardo). The classic Thousand Island dressing and sauerkraut are then added in the form of a cabbage gastrique. Also included: Peri Peri sauce! After it's assembled, they top it with fried slivers of pork, and recommend it be paired with an "Old Bear" cocktail -- a shot of bourbon, and the only beer that would ever seriously consider getting Ruben Studdard to endorse it: Hamm's.
Recommended Video
Prosciutto- and Provolone-Stuffed Flank Steak Is a Meat and Cheese Masterpiece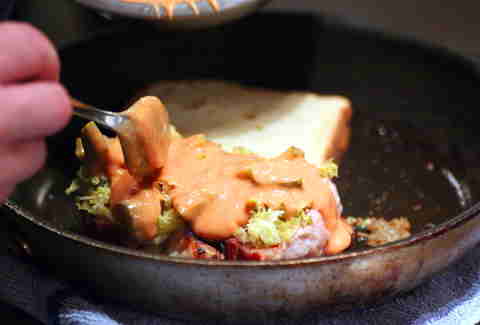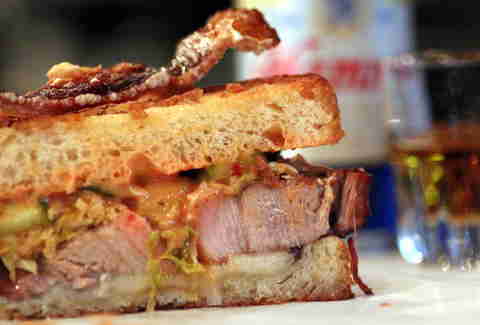 Previous Venue
Next Venue
Venue Description
1. Hunger
3601 Fremont Ave, Seattle, WA 98103
Hunger's menu features a range of Mediterranean-influenced dishes created from fresh, locally-sourced ingredients, ranging from small plate items to full-on group-sized paella platters. There's also an assortment of traditional cocktails and handcrafted signature drinks, in case you're jonesin' to get your mixed drink on.