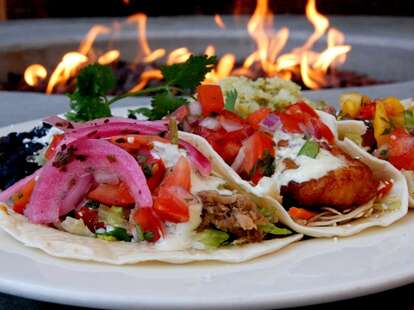 Nowadays it can be difficult to determine when things are actually good unless you subscribe to a certain online publication that often utilizes but never over-utilizes hilarious strike-thrus! especially when your weirdly over-optimistic friend Tony always animatedly insists "They're Grrrrreat!". For a restaurant helpfully using its name to tell you it's good, Pecado Bueno.
Opened by a guy with a hand in the ubiquitous Taco Del Mar, and various Neighborhood Grills, this fully boozed Mextaurant is slinging a taco-heavy lineup of street-style eats in a space boasting a 30-seat patio fitted with a massive fire pit, and a 60-seat Lucha Libre-arted dining room with a bar backed by jutting baskets stuffed with fruits like pineapples and bananas, no doubt leaving the bartenders frustrated that tips aren't the only things they have to tally. The menu starts with "basics" like pico de gallo/avocado-lime creme/cotija cheese-topped Soft Tacos w/ one of various meats (carne asada, chipotle BBQ tiger prawns, etc.); guac'd shredded chicken adobo or pork carnitas Taquitos; and three cheese/black bean/green rice Burritos, which, in addition to the usual proteins, can be stuffed with a battered cod, whose story about tripping and falling down the stairs sounds a bit fishy. PB's also doing specialty entrees that range from a traditional Huevos Rancheros, to Enchiladas w/ either white cheese, Ranchero, or Tarantella sauce, to a Taco Platter that can be pimped by the addition of "the original white sauce"...so, um, you may want to see if they'll just add Ranchero or something.
There is also a diverse salsa bar, and a bar-bar where they're working on specialty 'tails, and currently serving South of the Border suds and three kinds of margs -- the flavors of which your buddy Tony will falsely identify by saying, "They're Grrrraaappeee!".