Japanese street food on 45th Street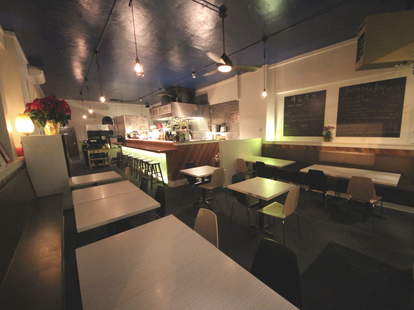 Quietly open now in the former Joule space, and helm'd by a crew that was chef-ing in Hokkaido until a couple of months ago, this Yakitori-slinger is built around a welcomingly LED-lit open kitchen/bar, which is appropriate since the restaurant's name is a bit of word play that sounds like "Yoroshiku", a greeting that, when translated, literally means... something in Japanese, apparently.
4649's chef is all about Sapporo-inspired street foods, like this Zin Ggis Khan BBQ lamb that boasts a sake-based marinade, and logically should be paired with a Schlitz, obviously Sapporo.
The roast pork on top of this Chashu-Men should be your first clue that, unlike in college, having ramen for dinner literally means something other than, "I blew all the money my parents put in my checking account on killer logo tees from Hollister".