Ethan Stowell gets low-key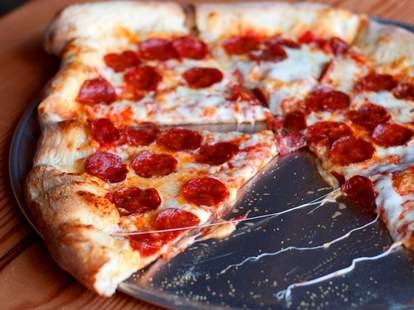 If you want to keep things casual, you've got two options: 1) cut the sleeves off that tuxedo t-shirt immediately, or 2) still do number one, and when you're finished, hit up Ballard Pizza Company.
The first casual offering from Seattle it-chef Ethan Stowell, BPC's using the same locally sourced ingredients as his more high-minded spots (How To Cook A Wolf, Staple & Fancy, etc) to sling whole pies and "fat slices" from a historic, garage door-fronted, 50-seat space boasting brick/reclaimed wood walls and an open kitchen, which doesn't care if people know it uses pots. 'Za options will include daily specials (pineapple & pepperoni, prosciutto & arugula, etc) but are mostly build-your-own, with toppings ranging from meats (Canadian bacon, spicy coppa), to veggies including eggplant, garlic confit, and pickled peppers, presumably picked by the peck by noted sustainable food guru Peter Piper. Additional eats include specials like a stromboli w/ the works, porchetta sandwiches, pastas (spaghetti with anchovy/garlic/chilies, potato gnocchi with Italian sausage/tomato/oregano), and classic lettuce-based eats from a Caesar to an Italian chop, though technically what they did to Caesar was more of an Italian stab.
If you're still hungry after mercilessly stabbing Julius in the forum all that stromboli, there's gelato and cookies for dessert, and to wash it all down they've got NW/Italian wines (two of 'em are on tap), plus a slew of suds, like Ballard's own Hilliard's, up their ridiculously and unnecessarily formal sleeves.