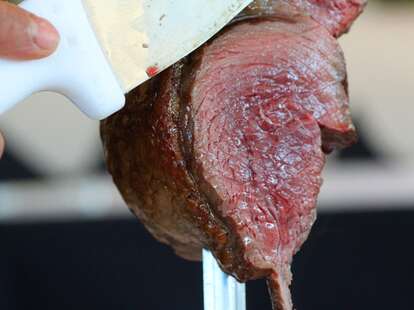 Grandmothers always say that cursing is only for sailors and haunted mansions visited by Eddie Murphy, but it could also be said about any spot that goes into the building at the corner of First and Denny. Hoping to break that curse without the use of sailors and/or gypsy women whose heads are encased in crystal balls, Fumaça Brazilian Steakhouse.
Settling into that weird triangular building that was previously home to 101 (and before that Blush and before that Whym and before that Minnie's and before that, presumably, French Canadian fur trappers), Fumaça ("smoke" in Portuguese) is planning to stay longer than the others by slinging "authentic Latin American cuisine" including Brazilian "rodizio", Puerto Rican "sazon", and Peruvian ceviche. Dinners (which include empanaditas, fried bananas & collard greens, as well as infinity trips to get artisanal cheeses and things you can't pronounce at their salad bar) feature different cuts of meat slow-roasted on a mesquite charcoal grill, like a skirt steak finished with Peruvian pisco, and a free range rotisserie chicken marinated in garlic and Caribbean bitter orange, which likely got that way once it found out it was leaving that tropical climate for this one. If you have a smaller appetite, solid choice selecting a Brazilian steakhouse, but maybe opt for the tiger shrimp in garlic oil and dry sherry, or the grilled beef heart skewers w/ yucca fries and rocoto pepper coulis.
To wash down all that heart, they've got pisco sours and enough flavors of Brazil's super strong national drink -- the caipirinha -- to ensure the rest of your night is one scary, forgettable ride.