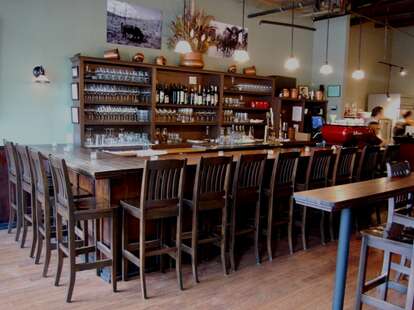 Presumably named for the soon-to-exist buddy sitcom starring Martin Lawrence and Jeremy Piven's increasingly chubby assistant, this casual 40-seater is the first resto from a local chef who decided to stop cooking for other people (Quinn's, Oddfellows) and start serving a constantly rotating menu of pretty much whatever he damn well pleases, so here's hoping dude is super into mystery-flavored Shark Bites. Read on, and you will be rewarded with knowledge of:
The Space: The casual, stained wood-heavy expanse maintains the cozy feel of the Bricco it replaced, and is split between a solid, geometric bar on one side, and a row of banquettes along a wall whose over-sized windows peer into a massive wine vault, also one of the signature events at the Rip Torn Olympics.
The Food: The modern eats menu boasts apps (Cavatelli Pasta w/ raclette & pork rinds, a curry/ cauliflower/ raisins/ Curry Shrimp combo), and mains like Beef Short Rib w/ potato puree, ricotta/ smoked tomato fondue Ravioli, and Pork Cheeks w/ spaetzle & King oyster, an ingredient that -- owing mostly to the fact that it's a mushroom -- really doesn't shuck.
The Wine: LM does do suds (a dozen craft brews by the bottle, two local numbers on draft), but there's also a massive wine list meant to compliment the edibles, including 16 by-the-glass offerings like a 2008 Semillon from Walla Walla's Beresan Winery, and the Yakima Red Blend from Olsen Estate, coincidentally something that's also been funded entirely by sitcoms.