NY-style pies via where else but Bellingham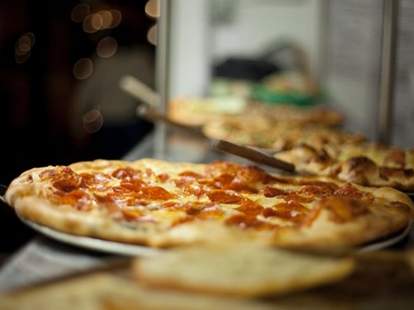 What with increasingly horrendous traffic, a stagnant job market, and a steady influx of hicks from places like Bellingham, moving to the city seems like a GREAT idea, which is why some no doubt totally awesome dudes from...um, Bellingham have brought their unpretentiously sweet pizza/booze concept to the back side of lower Queen Anne, even though she'd probably rather have one of those extravagant petticoats they wore back then. Here's what to look forward to from:
The Space: Boasting its own underground parking lot (which they've arted w/ a cartoonish orange/black city skyline), this 5500sqft eat-/swill-ery, scattered with all-black booths and banquettes, is pretty no-frills, except in the liberally flatscreen'd bar, where they've cleverly back-lit the counter so it glows a warm yellow despite being Cold(play) to the touch.
The Food: In addition to creatively named burgers and richly sauced pasta, their housemade dough/sauced 'za options range from classic (the mozz/tomato/basil-topped Margherita, the Milano w/ pesto & bacon) to a mess of NY-inspired options like the Madison Square Garden and the Jersey, both of which are packed with seven ingredients but would look wayyy better with NBA players in them. End the damn lockout already!
The Drink: Their enthusiastic-but-easily-accessible drink list includes classic martinis (gin & vodka options, plus mainstays like a Manhattan), lady-friendly "Shaker Martinis", and house 'tails like vodka/gin/rum/black raspberry liqueur Black Opal, and the strawberry rum-based Fantasy Island, which, once they've tired of living in the city, some people actually confuse for Mercer Island, or hell, even Bainbridge.