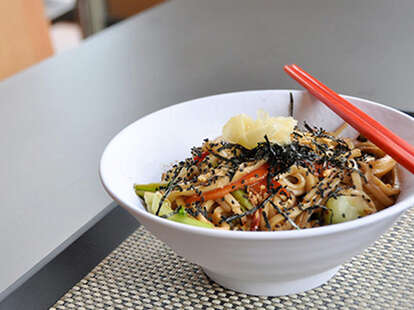 Focusing exclusively on the one thing you do well is smart, unless that one thing is "being lobotomized". Giving you one awesome thing that might just make you fly over the cuckoo's nest, Wanna Noodle.
Posted up in a former Taco Del Mar, this casual 30-seat noodlery (the first of what the crew behind it hopes will be several locations) is serving up the traditional comfort food in various styles that can be had either to-go, or in a high-ceiling'd space with a wall of windows on one side and industrial fixtures offset by Asian lanterns on the other, all split by a row of blonde wood booths, which is convenient, even if it does take a ton of them to screw in a light bulb. Main offerings are divided between Soup Noodles (the Gulf shrimp/ salmon /sea scallops/ spicy lemon grass-tomato broth/ rice noodle Lemon Grass Seafood Hot Pot, Grilled Chicken and Baby Bok Choy w/ Shiitake & egg noodles), and wok-style dishes like the Wild Mushroom Yaki Udon in yakisoba sauce, and Asparagus Beef Noodles w/ red pepper & a black bean sauce called Five Pepper, but not Five Pepa, since that'd really Push It. They also do Sai Fun clear noodle salads (w/ greens, peashoots, fried garlic, shallot, etc.) topped with various dressings (spicy peanut, miso-herb) alongside skewered meats ranging from Hoisin-Honey BBQ Salmon, to Thai Rubbed Beef with Five Spices, if you're feeling particularly Posh
And because man can't live on noodles alone, there're also starters like miso soup, edamame, and Spicy Szechuan Dumplings that come w/ smokin' chile-garlic sauce, as well as imported suds and sake, which you're more than welcome to Nurse.