Some Northern-Italian for you to nom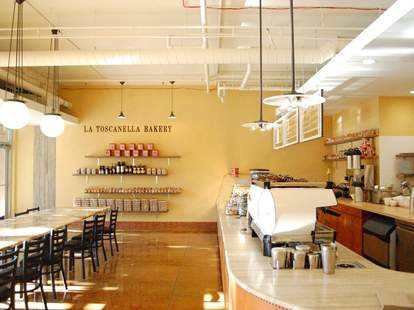 Naming your business after Puccini's tragic and ultimately suicidal heroine is something that the crew behind La Toscanella... um, may or may not have done. You'd probably have to speak Italian to be sure. But what these former baked-goods wholesalers have definitely done is turned into kick-ass retailers/restauranteurs via a gleaming pastry-colored shop that's got your Northern-Italian eats needs covered all day. To wit:
Baked Goods: As we're heavily laced with Swedish bakeries (but sadly not models who want to date dudes who write for hip email newsletters), Seattle doesn't often see Alps-based dishes like a Granny Smith Fagottino w/ cinnamon and raisins, or the ridiculously decadent chocolate-filled Ravioli al Cioccolato cookie.
Breakfast: AM-style eats mean a rotating selection of skillets served with focaccia bread, including the three-egg Uova con Salsiccia o Pancetta w/ tomato concassea, mozz, and your choice of bacon or something that's not bacon, but, really, what's the point of mentioning it?
Pastas: Besides some ready-made panini (tomato and mozz w/ pesto and olives) and bruschetta, not-sweet eats are handled by baked-to-order options like the roasted chicken/ricotta/parm Cannelloni al Forno, which you may or may not be able to get for a (kind of sad) song.