Is a pretty good one for sausage, though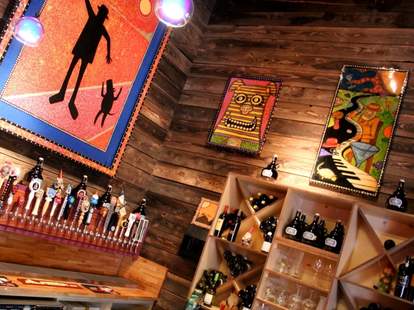 The invariably cheesy humor derived from puns typically leads to a very Stilton style of prose, turned out by people who don't know Jack about writing -- probably because they didn't have the Cheddar to attend some posh Swiss school that will instill a proper appreciation for Gouda use of the language. Those inhuman Muensters! (Pause for polite applause.) Bravely employing a pun in its name, even if it meats with disapproval in certain circles, The Wurst Place.
The brother/sister/brother-in-law crew behind this punnily named sausage and suds operation have turned a former sporting goods store into the anti-worst place to score creative encased meats, decking it with a schton of reclaimed touches (a 21ft wooden communal table, a deli counter fronted w/ old shutters, etc.), and dozens of pieces from an LA-based friend/artist, some of which even glow in the dark! This all-housemade sausage-fest means classic wurst (Munich Weisswurst, Sweet Italian), unusual meat options like Sweet Russian Boar, rattlesnake, and rabbit, and ethnic-inspired numbers, including a pork-infused Hawaiian, pepperoni supreme pizza, and a currywurst, which would presumably be more comfortable surrounded by familiar words like Eddy, Is, The, Center, In, The & League. Other eats range from a Czech noodle dish cool people call Haluski Kapusta, to Belgian-style frites coupled with outlandishly awesome dipping sauces like salted caramel, chocolate malt & a pineapple chutney w/ ghost pepper, which, because it's soooo hot, is also considered a Face Killah.
To wash down the foodstuffs, WP boasts 20 taps that include both Belgian/German brews (Chimay, Duchesse de Bourgogne, etc.), and NW suds like Deschutes Obsidian Stout, and an IPA from Boneyard, which is a nice change of pace if you're Feta up with that Whiz you normally take down. Manchego!