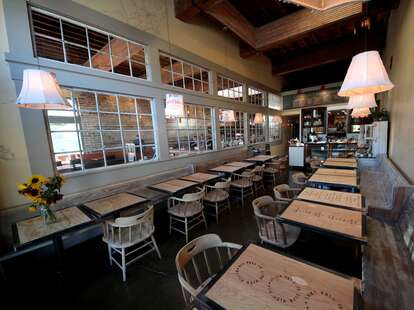 Not only found in NFL stadiums whenever Tony Siragusa goes looking for kettle corn during commercial breaks, The Wandering Goose can now also be found on top of Cap Hill, where a former Volunteer Park Cafe baker is serving a biscuit-heavy line-up of Southern eats from a narrow 30-seat cafe separated from the neighboring Rione XIII only by a vintage leaded glass "demising-wall" that looks totally killer.
The menu's built around the aforementioned biscuits, with sandwiches including the fried chicken-based Aunt Annies w/ pickles, honey & house mustard, and breakfast-inspired numbers like the fried-egg/country ham Sweet Blond, or the egg/cheese Easy, which hopefully also goes for that Sweet Blond. Not-sandwich breakfast items include a fried oyster/cured pork belly/poached egg Hangtown Fry, which was invented during the Gold Rush in the 1850s when a prospector who'd struck it rich ruined his prospects of staying rich by ordering the most expensive dish his hotel could make
The menu also boasts drinks (a "hangover-helper" called the Old Dominican, a Daily Squeeze crafted at the chef's whim, etc.), and supper plates (including one w/ fried chicken, mac & cheese, braised greens, etc.) that're designed to feed two, or at least tide Tony over 'til the next commercial break.