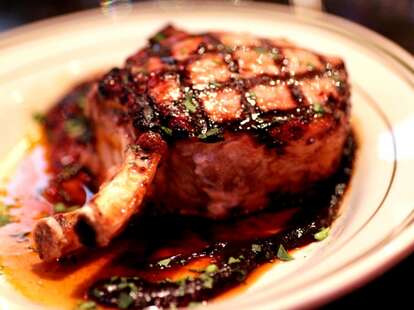 Grandfathers occupy a special place in your life -- who else can take you fishing, slip you a few bucks for candy, and then go off on a sixteen-minute diatribe about the inherent danger of hiring the Irish? Nobody, which is why these dudes are honoring theirs with Henry & Oscar's (while maintaining equal opportunity employment practices).
Named for their grandfathers, and opened by the team behind boozed-up movie house The Big Picture, this Belltown supper club aims to capture the "at this point, only old people remember it" era of the '40s and '50s, a time when men were men, and women were men also -- seriously, have you seen Eleanor Roosevelt?? Well, Henry and Oscar have, and to escape the image they'd have checked out:
The Space: Split between a bar and the adjacent dining room, H&O uses a combination of rich textures (mohair, faux alligator, reclaimed wood...) to invoke an old-school gentlemen's club, while simultaneously channeling a hunting lodge thanks to light fixtures made with antlers, though, to be fair, gentlemen's clubs ARE also usually filled with horny things.
The Food: Means updated classics like a Bone-in Carlton Farms Pork Chop w/ pomegranate BBQ sauce, Beef Stroganoff, plus whimsical additions like the sport peppers/ mustard-topped Jumbo Oscar Dog made w/ Vienna Beef, which until the 1700s was usually just settled with massive-cavalry-charges against the Ottoman Empire.
The Drinks: Specialty 'tails also skew old-school (the muddled organic sage/ lime/ gin/ Cointreau-based Bogart, the gin/ vodka Casino Royale w/ Lillet), and they offer a bygone kind of personal service in the form of individual glasses engraved with the names of their best customers... so long as it ain't one that starts with "Mc" or "O"*.
*Just kidding! Irish people can get engraved glasses too. Canadians though...