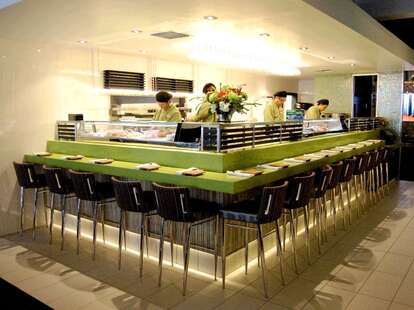 Taking the occasional break can do wonders (so much so that you really shouldn't need to ask others for one, Nell Carter!), as evidenced by this 150-seat sushi slinger's intense sprucing (completely remodeled interior, overhauled menu) during a hiatus that took almost one year, which seems like a long time 'til you consider Jack Black's unplanned hiatus started with Year One. Hit Wasabi and you shall discover:
What's New: The old neutral-colored wood-heavy interior is gone in favor of a gleamingly geometric space highlighted by wall art backlit by LEDs, Jetsons-ish custom-built lounge chairs, and oversized polished metal light fixtures that resemble atoms exploding; on the food front there's new rolled options (the shrimp tempura/spicy crab Sexy Scorpion), and a greater emphasis on small plates/apps including things like tacos w/ spicy pork belly, and grilled pork tenderloin w/ a sauce made from mango tequila, which (SPOILER ALERT!) Chris Kattan unsuccessfully attempts to market to Turtle in the final season of Entourage.
What's Not: Returning are their most popular eats, ranging from greens (tempura King Crab salad w/ miso citrus dressing), to mains (New York strip, stuffed halibut snow crab w/ orange beurre blanc sauce), to their list of signature rolls including the deep-fried Inglorious Basterd w/ spicy crab, spicy tuna & jalapenos, and a tofu/ asparagus/ avocado/ sweet chili sauce'd number called Garden Mamba, also what Phil said when Kobe asked what to do with all the extra time on his hands.