Normally, purchasing a half-pound will actually make you more hungry (not to mention put you at risk of doing up to six months in prison under mandatory federal sentencing guidelines), but not at 8oz. Burger Bar, where they're just saying no to drugs, but yes to potentially even deadlier mounds of meat.

Opening in the former Tidbit space from an eclectic crew that previously helmed Magnolia Village Pub/manufactured plastics, the Seattle version of Govind Armstrong's concept is decked with a vintage art-deco bar and other salvaged touches (recycled beer cans lining the walls, an old keg for a urinal, etc.), and serving a beef-heavy lineup of pub fare, plus (once they get their liquor license) 'tails and local suds. Patty options range from their signature sirloin/tri-tip/short rib/chuck house burger, to the pickled onions/Carlton Farms bacon/poblano relish-topped Wild Boar, while sandwiches mean the Short Rib Grilled Cheese w/ onion marmalade, which Oprah included on her list of favorite things, right between yelling at James Frey and having totally platonic sleepovers with Gail. Other edibles include a wild boar/local lamb/grass-fed beef Slider Sampler (note use of restraint in not making Jerry O'Connell reference); Short Rib Poutine w/ Kennebec fries, house gravy & a Beecher's cheese blend; plus a snack-size corndog w/ purple mustard they're calling the Mini Kobe (note use of restraint in not making Kobe Bryant wang reference).

They're also doing frozen treats (ice cream sandwiches, banana splits), and drinks ranging from an Orange Creamsicle Float to a PB&J Shake, which is pretty awesome no matter what kind of 8oz. you've just finished.
Previous Venue
Next Venue
Venue Description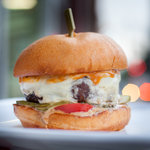 1. 8oz Burger & Co.
1401 Broadway, Seattle, WA 98122 (Capitol Hill)
8oz Burger & Co. emphasizes local and sustainable ingredients more than the average burger chain -- the house-blended patties are made from grass-fed beef that's sourced from cattle farms in Washington, Oregon, and Idaho, and the brioche buns are baked daily at a nearby bakery. That said, you can't go wrong with the signature 8oz Burger, a fanciful combination of arugula, balsamic onions, bacon, cheddar, and truffle aioli. There's also the option to build your own burger that, when tailored to your personal tastes, can be as sophisticated (aged gruyere, fig jam, prosciutto) or basic (white American cheese) as you like.