Named for a former NYC pizza impresario who's friends with the owners (instead of what you'd better be when you finally find the Tanooki Suit on World 4, Level 5), this 'za-slinging institution makes our Favorite 5 by being Cap Hill's go-to spot for choice pie by the slice, and tongue-in-cheek brew options like PBR and 40s of Olde English.
Recommended Video
This Shop Serves Pizza With A Poke Twist
Previous Venue
Next Venue
Venue Description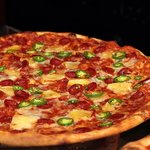 1. Big Mario's Pizza
1009 E Pike St, Seattle, WA 98122
There aren't many places in Seattle where you can slug an Olde English 40 and bask in the glory of true New York-style pizza, but Big Mario's is one of them. Located in Capitol Hill, this is one of the best spots for quality, thin-crust pie. Hipsters flock to Mario's for its retro style and late-night deals.