An ambitious Mex-taurant comes to Pike/Pine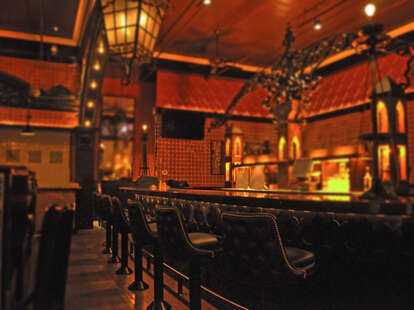 History tells us that successfully dominating one country only makes you want to dominate more, a desire often thwarted by the fact that there will never be another Bryant Reeves. From two dudes aiming for that second country's cuisine after taking down the French, Poquitos.
Opening today (provided they get their permits), this 122-seat comida-ry from the dudes behind Ballard's hyper-successful French-taurant Bastille was inspired by a vintage neon "Poquitos" sign they salvaged five years ago, and is rife with south-of-the-border sourced decorative touches (14,000 Talavera tiles from Puebla, giant metal light fixtures/mirrors from Mexico City) that fancify a brick-heavy 3500sqft space boasting arched passageways, an open kitchen with made-to-order tortilla and guac stations, and a late-night takeout counter, also the name of Jerome Bettis's favorite play. Edibles (chef'd by a Union/La Spiga vet) range from soups (a black bean/masa dumpling Frijole Chochoyotitos w/ chipolte & cojita), to mains (lamb shank braised with Chile Colorado), to tamales (chicken w/ mole negro, pork w/ guajillo chile), and tacos like braised short rib with salsa roja, and al pastor made with "local pig", sourced directly from its native habitat -- courtrooms. Behind the bar there's a half-dozen drafts and a small wine list to go with specialty 'tails that include the cilantro/ coriander infused tequila-based Ditch; the Manhattan-ish Elogio w/ Anejo tequila & Xocolatl Mole bitters; and The Cuzco, made with Pisco Acholado, orange marmalade, fresh citrus juices, egg white and Boston Bitters, also a name applied to Celtics fans after they traded away their hopes of winning another title this year Kendrick Perkins. Poquitos also boasts a lunch counter that'll serve a limited menu (starting mid-April it will double as the aforementioned late-night to-go space), and an enclosed 57-seat outdoor patio complete with a second bar, two fire pits, and radiant heated benches/flooring that'll keep you warm even when the weather gets Grizzly.