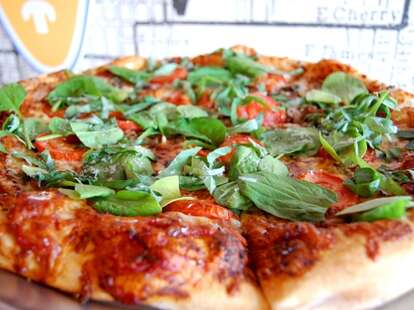 People with sophisticated comedic sensibilities often disparage the pun as too easy, though it's hard to blame a dude who weighs over 500lbs for having low standards. For a pun-ily named place where you can crush a lot..of 'za, hit Pritty Boys Pizzeria.
Opened by the dude behind Belltown's Branzino, and taking its name from a pun on his last name, this laid-back 'za slinger's transformed the low-ceiling'd former Dulces space via deep-red paint/classic vinyl booths, arcade-style games and flatscreens in what used to be the cigar lounge, and walls arted w/ vintage maps of Seattle. East Coast-style pies are highlighted by the ground beef/ basil/ mushroom/ spinach/ tomato/ roasted garlic Lean & Green; the meat-heavy Craver w/ pepperoni, sausage, Canadian bacon, ground beef & bacon; and the garlic oil/ Kalamata/ feta/ cherry tomato Pritty Girls Special, also the entire transcript of Hugh Hefner's pitch memo to Bravo regarding a one-off hour-long television show. Additional mangia-bles range from starters (chevre/ balsamic tomato/ fresh basil-topped bruschetta, fried calamari w/ garlic lemon aioli), to simple pastas (Fettuccine Alfredo, Ricotta Gnocchi), paninis (the caramelized onion/ comte Roast Beef w/ au jus), and traditional salads like a mixed-green House, which presumably features Hugh Laurie using an upcycled cane and swallowing locally sourced pain pills.
PBP also does beer (four taps, a dozen bottles) and wine (glass & bottle options), and custom pies with your choice of 41 toppings, plus they're serving a limited lunch menu boasting either a personal pizza or a sandwich served with a half-salad, to ensure you don't get too Fat, Joe.