A neighborhood cafe in a 'hood without many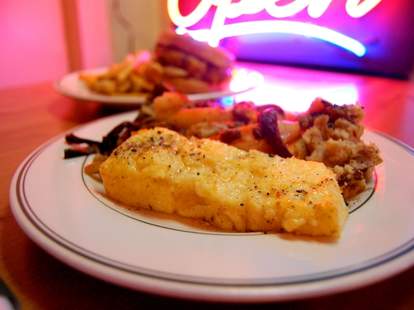 It can be very frustrating to live in a neighborhood that fails to provide you good options, which is why you should always try to live as close as possible to Marques Tuiasosopo. Scoring a rare fresh eats option for the CD, Judkins Street Cafe.
Replacing a short-lived burger joint on a lonely section of its eponymous street, this ultra-casual eatery was conceived by a pair of Microsoft/resto-biz vets committed to serving their 'hood fresh/seasonal homestyle eats, all from a colorfully hued, 30-seat eat-space fitted with a tiled counter that fronts an open kitchen pre-equipped with a massive brick oven they'll use to conduct "barbecue experiments" that're much needed, since now they're just left asking "barbe...que?" JSC's limited menu is built around classic beef/chicken/salmon burgers fancied up with a mess of toppings (bacon, chili, avocado) and sides (sweet potato taters, rosemary fried potatoes); plus there're rotating daily specials ranging from lasagna, to polenta w/ roasted veggies, to soul food options like a relish'd hot link, also what you call any URL that keeps your pickle crisp. AM means classic carb-based eats like pancakes and French toast, as well as protein-heavier options including a $4 egg/toast/coffee combo, or Grits & Egg, also the name of the newest Coen brothers film in which Jeff Bridges plays a grizzled, merciless US Marshall who looooveesss brunch.
JSC also does to-go grub like ham/Brie or turkey/Swiss sandwiches, and starting next week there'll be beer and wine options; plus future plans call for serving suds via draft, which the Raiders would agree is a far better option than drafting Huskies.