To ensure an operation goes smoothly, you've got to hand-pick your team -- get stuck with Jon Favreau instead of Bruce Willis on your asteroid-blasting mission, and your Impact will not be Deep. Staffing up smartly, the guy behind Second Bar + Kitchen. Run by a crew of service-industry stallions personally rounded up by Driskill Grill's owner (including vets from Taverna, East Side Showroom, Uchi, and The Good Knight), this seasonal American bistro's nestled into the Austonian's base, now outfitted with glass and metal adornments from the space's previous incarnation (as a windowpane factory), plus random touches like second-level outdoor seating floored with AstroTurf, so Az-Zahir Hakim can deliver your order a tenth of a second faster. Hefty eats include Vertical Rotisserie Chicken (w/ black eyed peas, buttered brioche, escarole, mustard jus), Grilled Ribeye Loin (w/ Brussels sprouts, black truffle grits, Bearnaise, oak barrel-aged steak sauce), and wood-fired pizzas like the Beef Short Rib (burrata, caramelized onion, garlic chips) and the Pulled Pork Shoulder, with green chiles, asadero cheese, and tobacco onions (apparently Homer's branched out from "tomacco"). Sandwichery runs from a house-ground brisket/chuck burger (w/ shallot confit, Gruyere, horseradish pickles) to the White BBQ Rotisserie Chicken (w/ shaved radicchio, smoked tomato-jalapeno jam); starters see the likes of Buffalo Fried Pickles stuffed w/Gorgonzola & hot sauce, and San Marzano tomato/mozz Pepperoni Soup, the chef's grandmother's recipe, seasoned with an extra pinch of cheek. Showcased on a pristine white Corian bar top with a chalkboard listing daily specials, evil liquids include 50+ wines and tap standouts like St. Bernardus Tripel and Buckethead IPA from Thirsty Planet -- or what we'll be, once the Earth's oceans are allowed to vaporize by Jon Favreau and...Blair Underwood?!
Recommended Video
Can the NYC Steakhouse Survive?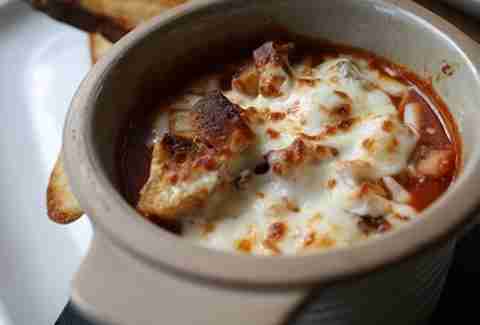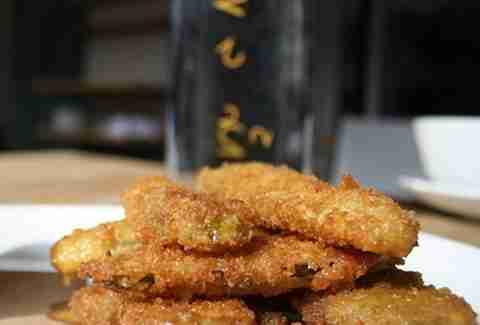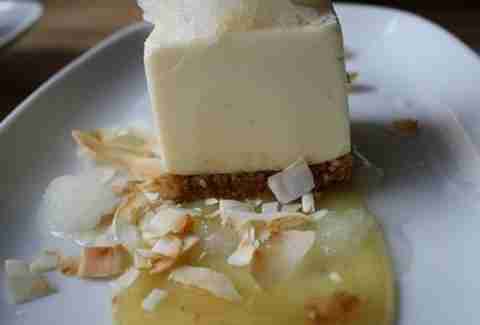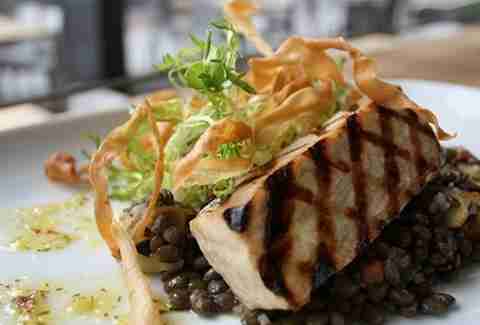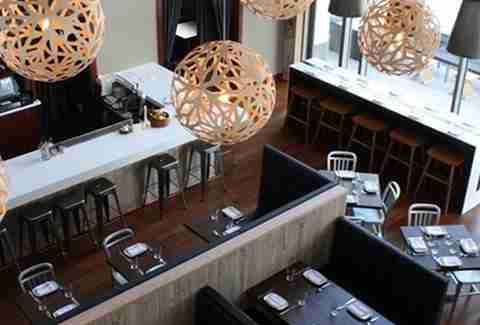 Previous Venue
Next Venue
Venue Description
1. Second Bar + Kitchen
200 Congress Ave, Austin, TX 78701
Second Bar + Kitchen prides themselves on creating a true farm-to-table experience, offering small plates, pizzas, and various entrees. Our personal favorite is the Congress Burger, which is essentially the Rolls Royce of Austin burgers; ground brisket & chuck, gruyére cheese, shallot confit, and horseradish pickles, with the option to double the meat and cheese, add pork belly, avocado, fried egg, and seared foie gras. There are also a wide variety of wines, beers, and craft cocktails. Stop by Second for lunch, dinner, and weekend brunch.