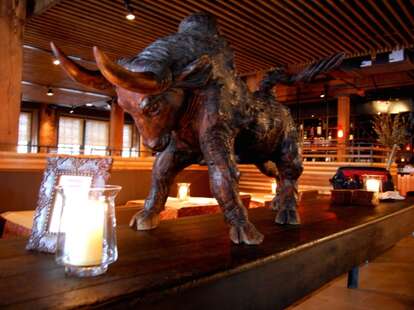 They say that Eight is Enough, but if that was the case, then why is Dick Van Patten still hawking Natural Balance Pet Food for dogs, cats, and even large carnivores like lions and polar bears at the tender age of 74? Proving eight isn't enough when it comes to feeding humans either, the guy behind Cuoco.
The eighth of what (by next week) will be ten original restaurant concepts from super-prolific chef Tom Douglas, this brick-walled 90-seater's serving up Northwestern takes on Boot-food in a space that boasts rows of pale wood-heavy banquettes, a glass-backed bar furnishing views of its sizable vino collection, and an entryway dominated by an open kitchen/white-tiled pasta station, which unlike a train station, is for stuff you chew-chew. The menu's dominated by pasta in various styles, including seven layer lasagna alla Ferrara, artichoke ravioli w/ mascarpone & Parmigiano, Bolognese tagliatelle, and bucatini w/ marinara-sauced polpetini (meat balls) made with young goat, a title LL quickly lost when he took that role on In The House. Other eats range from antipasti (24hr rosemary-cured beef), to starters (spicy sausage-stuffed calamari w/ white bean cake), to Roman-style "Quinto Quartro" dishes (lambs tongue w/ snails & arugula broth, and cinzano grapes/ fennel seed sweetbreads), to mains like a grilled anchovy bread-abetted Washington beef for two that's been dry-aged, two words usually used to describe Pat O'Day.
To wash things down, Cuoco's got a full bar and the aforementioned list of all Italian wines, while on weekends they've got AM vittles that include a grilled aged ribeye w/ tomato-To braised leeks, sweet pea risotto, and a bunch of bruschetta options like a spinach/ salsa verde number w/ an egg that's been poached, an activity that, when done in the wild, tends to mess up Dick's Natural Balance.