Delicious Italian in Kensington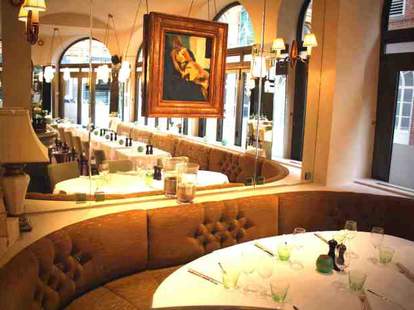 Moving from France to Italy's not a bad call -- you still get storied tradition, vibrant culture, and a pretty hot first lady, assuming she came from one of the good agencies, and is actually old enough to be called "lady". For restaurateurs giving their Tricolore a little more green, hit Ilia.
From the team behind Gallic award-magnet 1 Lombard Street, Ilia leans in a more southerly direction, serving up Italian in a lair whose mirrored walls, green leather chairs, and silver bartop combine for an Art Deco vibe evocative of the 1950s, with a gorgeously dangerous-looking cherry-coloured charcuterie slicer providing for an authentic red menace.
The uncomplicated menu kicks off with antipasti like "porchetta style" rabbit (roasted like a pig, with wild fennel and shallots), lemon & orange red-prawn tartare, and a tuna-sauced veal sirloin medallion, because when Peter Stringfellow wants his meat cut a certain way, he gets it.
Pasta sees a simple vongole w/ spaghetti, clams, chilli, and basil, a pappardelle wild-boar ragu, "plin" (pinched) ravioli in guinea fowl broth, and curled trofie pasta w/ bacon & cuttlefish, who unlike cuddlefish, don't mind getting porked.
Things get meaty via a roast pork belly w/ broccoli & almonds, a hunk of beef sirloin topped with foie gras & lettuce, and lamb cutlets "scottadito", meaning "burning fingers" -- also what Berlusconi feels after inserting his into a bunga bunga.