Austin-style food trailer deep-fries straight to your heart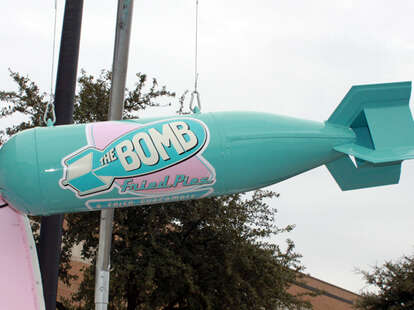 The key to a good marriage is supporting one another's endeavors, and never attending parties where you drop your keys in a bowl, along with lots of other keys. Filling your gut with spousal support: The Bomb Fried Pies and Guacamole.
Inspired by Austin's thriving meals-on-wheels scene, The Bomb's a roving, State Fair-worthy project from Mesquite dental assistant Brenda and her husband Pat; she'd spent 30yrs patiently standing by as he obsessed over classic cars, and now he's helped her live her dream, by making her stand at the front of the class in her underwear creating one of the more badass mobile food dispensers in the universe. Pulled by a 1960 Ford Sunliner, the '65 trailer was outfitted with a kitchen by Pat & friends, then slapped with a collage of childhood-friend photos, mid-century-esque graphics, and, hanging off the front, an actual bomb found at a swap meet -- though this trailer's definitely not serving Slim Pickens. The goods: secret-recipe, deep-fried apple-, peach-, cherry-, and apricot-stuffed crusts topped with powdered sugar, treatment she also gives to pockets of made-from-scratch guac, which is then dipped in salsa and sprinkled with salt, because everything's better with Angelina Jolie on top. Except The Tourist.
The plan's to unleash more secret fried goodness, and buy a plot of land for a permanent location, possibly in Oak Cliff, but not "Oh Cliff!", the shocked exclamation uttered by wives of 1970s dudes named Cliff, even though the sordid scene they'd stumbled upon was kind of the point of the party.