Grilled cheese cart goes legit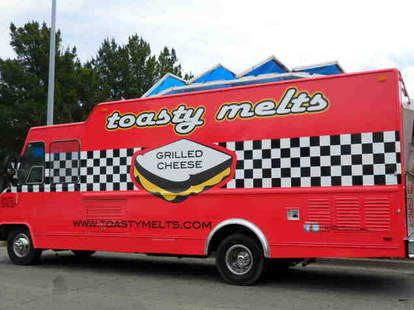 No doubt, you always feel cooler when you're doing something on the DL, but eventually, you do realize you're going to have to play basketball again, right Greg Oden? For a street food slinger who's off the DL, and ready to start feeling legal, try the Toasty Melts Truck, launching Sunday.
From the folks behind a hush-hush, kinda-illegal, grilled-cheese-making cart that used a butane-fired pancake griddle, the TMT is their attempt to legitimize the operation in the form of a 26ft GMC behemoth that's ready to legally sling a plethora of melted goodness. Bread-and-cheese combos'll include their Panorama-breaded ABC Melt (Fuji apples, Zoe's bacon, and Dubliner cheese), the Godfather (Zoe's prosciutto, basil aioli, and mozzarella), and the classic three-cheese (white cheddar, Gouda, and Jack), plus a regularly changing soup option, which you should never ever let Elaine order. They'll also be slinging less traditional melted cheese'd edibles like a Green Onion Pancake Quesadilla and a collab Papalote Melt that'll incorporate salsa from said burrito joint, which's been known to get people crazy high full.
Track 'em on Twitter and expect to see them at food-truck-apalooza Off The Grid (including this Sunday's launch at OTG's Whole Enchilada event at Dolores Park), plus hopefully corners like Van Ness & Clay, Sansome & California, and 1st & Howard -- though just the thought of having to guard the latter might actually explain Greg's supposed frailty.