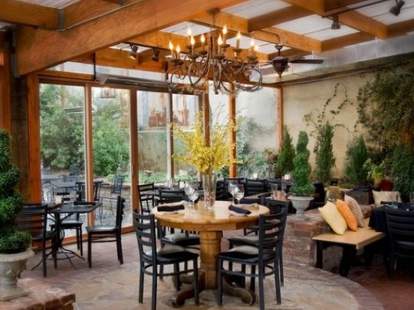 Valentine's Day means you've gotta buy your girl all sorts of stuff, from flowers, to chocolates, to gifts, but not the complete DVD collection of T.J. Hooker. Women hate early William Shatner. At least avoid a pricey prix-fixe menu, after getting a table at these spots staying a la carte this Feb 14:
Wahoo Grill (1042 West College Ave; Decatur; 404.373.3331) Fish out at the Euro-influenced bistro (which usually doesn't take two-top reservations) on a special V-Day a la carte menu with lobster pasta and cocktails like the organic cucumber vodka/ homegrown basil/ simple syrup "Drunken Gardener", who you can blame when she wakes up feeling deflowered
Canoe (4199 Paces Ferry Rd NW; Vinings; 770.432.2663) The tranquil riverside spot's a la carting seared George's Bank Scallops along with wine-paired meals to enjoy in the Dining Room, the Wine Room, or the River Room, which offers views of the manicured garden and its "elegant tents", which she'll enjoy staring at more than the one you're pitching
Moto Bistro (2257 Lenox Rd NE; Buckhead; 404.634.2828) Get sexy at the quaint French/Asian eatery with nibbles such as flash-fried, rice flour-crusted oysters and dins like rosemary-herb rack of lamb or the bass with fennel & leek, which according to the menu is "friend", a misspelling that hopefully doesn't convey what your date considers you
Agave (242 Boulevard SE; Cabbagetown; 404.588.0006) Get her loose with what many say is ATL's best 'rita, then move to Southwestern surfs like the Gulf shrimp/ sashimi tuna Ceviche Martini, or turfs including the with-honey BBQ sauce/ smoked chiles Sunburned Strip, which should remind you about how you went to Mexico and earned the money for this meal
Rosebud (1397 N Highland Ave; Virginia Highland; 404.347.9747) Enjoy a special V-Day a la carte menu of local goodness, such as braised duck & pistachio crepe w/ mushroom-Port jus or crispy crawfish/ truffle-braised peppers/ local fromage blanc "Lazy Lasagna", which hopefully won't put you to sleep before the real noodling begins
Eclipse Di Luna (764 Miami Cir; Midtown; 404.846.0449) Take your babe to the energetic casa de tapas, offering special plates ($12 Filet Mignon), a live Latin jazz/salsa band, and sweet Muscat dessert wines like Rock Point, also the standard mocking celebration when some fool throws scissors.