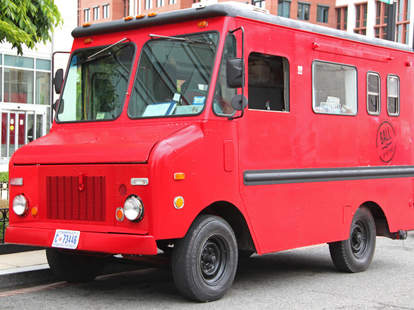 The massive balls of the guy behind Ball or Nothing are evident not only in his deliciously meaty spheres of Italian goodness, but also in the fact that the red truck's concept was inspired by his ex-girlfriend (after a trip to Frankies Spuntino in Brooklyn), while its name was dreamt up by his current girlfriend -- oh no he di'n't! Served as a platter or on a fresh-baked hoagie from local Catania Bakery, you can mix 'n match:
Balls: Served with an nduja (pork sausage spread) & mascarpone mixture, the homemade grub-globes are formed from a combo of beef, veal, and pork with red pepper flakes and ricotta cheese. They're also available in veggie form with plantains, brown rice, jalapeno Keswick cheese, and dried "dragon fruit", so enjoy listening to anime nerds giggling about ordering a plate of "Dragon BallZ".
Sauces: Opt for a Spanish Romesco with cashews, a roasted artichoke cream with Parmesan, or his favorite, a plum tomato base with maple syrup, brown sugar, and a tiny bit of the infamous ghost chili, not to be confused with the far more scary/accurate Ghost Left Eye.
And while they're not served in delicious ball shape, they've also got sides like stir-fried ramps & asparagus, a mascarpone cornmeal polenta, and some truffled couscous, all of which will be a semi-healthy break from the all-meatball diet that's quickly turning your current girlfriend into your ex. Oh no we di'n't!