Little known fact: the popular realtor's refrain "location, location, location" was originally followed by "...is only important as it pertains to proximity to pizza". So immediately sell your beachfront condos for whatever price, then respect the intelligence of the guys behind H &pizza. The intersectional name's the result of a single phone call between the owners ("Hey, where are you?" "At the corner of H Street and pizza"); the concept's basically the Chipotle of pizza: an assembly-lining parlor that's been bestowed by the architects behind ShopHouse with reclaimed wood tables, giant black street lights overhead, and classic pictures of H Street from '20s-'70s, back when they started building the trolly there. Personal pies are under 9 bucks, and get personal as you walk down the line, choosing dough (traditional, whole wheat, multigrain), sauce (mushroom truffle, spicy tomato, basil pesto), cheese (ricotta, asiago, mozz), and unlimited toppings (from arugula, to less Obama-y sopressata and veal meatballs) before they're quick-fired right before your eyes. Indecisive? Then hit pre-sets like the Farmer's Daughter w/ spicy tomato/ hot sausage/ farm eggs, the Moonstruck w/ red pepper chili oil/ mushroom truffle/ fig marsala, or the parmesan reggiano, sopressata, pepperoni smoked bacon Maverick, though shirtless volleyball flexing isn't recommended afterwards. And very unlike Chipotle, thankfully, there're six craft beers (like Oskar Blues' Dale's Pale Ale, 21st Amendment's Hell or High Watermelon, and Brooklyn Brewery's Summer Ale), though even those with real estate near the cooler should refrain from reaching over the counter.
Recommended Video
Hooters Is Opening a New Restaurant Chain That's Hiring Guys
Previous Venue
Next Venue
Venue Description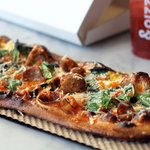 1. &Pizza
1118 H St NE, Washington, DC 20002
This popular DC pizzeria is baking some of the best pies in the city and simultaneously giving your late-night slice conquests some legitimacy by also offering craft beers.