From rational thought during the Enlightenment, to heads during the American Revolution, the 18th century saw the explosion of a lot of things. Apparently, another one of them was flavors, which you can now try at The Federalist, just opened.

"Inspired by 18th-century American food", which in turn was inspired by what Tommy Jefferson and his contemporaries ate during time in France, The Fed sits (appropriately) next to the Madison Hotel, and gets all parlor-y via framed labels of period wines & Champagnes, and a library-themed private dining space, meaning finally you don't have to sneak in the snacks. Trained at Atlanta's Bacchanalia and here's Vidalia, the chef's dishing Amish chicken breast w/ fennel sausage-stuffed roulade, a crispy-skin Chesapeake rockfish w/ jumbo lump crab meat, and a cane sugar-rum braised duck leg with barley risotto and "baby beets", which are overlaid with hot lyrics about pacifiers by Lil'est Wayne. Drink your wig off with the spiced rum/aged root/ pineapple/ red wine Saigon Sangaree, a bourbon milk punch with apples, honey, and nutmeg, or a chocolate-infused-rum concoction with burnt orange syrup called the "Kill Devil", or what film critics did to that M. Night Shyamalan movie about an elevator breaking.

If you just want to hit one of the many pin-cushion banquettes in the lounge, grab an app like a leek and potato tart with goat cheese from a farm called Pipe Dreams, also what the British called colonial aspirations of independence, back before things really started to blow up.
Recommended Video
Make Cheeseburgers in a Muffin Tin, Because More Is Always Better
Previous Venue
Next Venue
Venue Description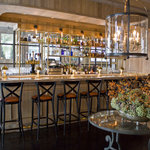 1. The Federalist
1177 15th St NW, Washington, DC 20005
This is 18th-century fine dining brought to you in the future, so you can wear your wig and sip Brandy with some other delusional history buffs. The Federalist is right next to the Madison Hotel and serves dishes like Amish chicken breast with fennel sausage-stuffed roulade and bourbon milk punch infused with apples, honey, and nutmeg. Exercise your freedom of speech and insist on making it a double.