Regardless of how you feel about the man sitting in that big, white house down the block (think it's called President's Palace or something?), you should feel great about its neighbor Woodward Table, which has taken over the old Potenza space to serve you seasonal American while you celebrate/complain about our Commander-in-Chief. WT's built out in H Street's historic Woodward building, leaving its 100yr-old "Great Hall" virtually untouched as a private dining area, but mildly modernizing the rest of the place with orange piping and large, circular lights that look like the UFOs of Omega Centauri's classiest aliens. Classy entrees, meanwhile, will set down on your table and include honey glazed, seared Duroc pork rib chop w/ creamy grits, pan-roasted Maine lobster w/ Ritz Cracker persillade, and a spice-crusted duck breast w/ a gizzard ravigote & "blistered" grapes. There are a few drafts (Great Lakes, DC Brau, Star Hill...), and specialty cocktails are highlighted by the bourbon/ Luxardo Maraschino/ Fernet Branca "West Wing", and the bourbon/ honey syrup/ citrus/ pineapple "Honey Delight", though good luck competing with that purple stuff! And then there's next door's Woodward Takeout Food, which'll send out breakfast (from quiche to chicken biscuits) and lunch (like corned beef tongue & duck reubens) from a spot that, at night, will host chef pop-ups and tasting events, though everybody's got different tastes, and that's fine, and we should all try to work together and get along, OK?
Recommended Video
It's Worth Getting Sloppy For This Grilled Cheese Taco
Previous Venue
Next Venue
Venue Description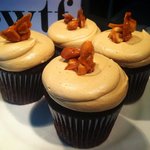 1. Woodward Table
1430 H St NW, Washington, DC 20005
Housed inside the historic Woodward Building, the elegant Woodward Table boasts an expansive dining room and bar warmed by a hearth oven, which churns out rustic plates of artisan flatbreads, house-made charcuterie, roasted shrimp, and cast-iron skillet corn bread. It's hard to resist those comforting options, but the menu also features refined American dishes like potato-crusted Alaskan halibut and cider-braised pork shank, plus chicken & waffles and croque madame at brunch. Adjacent to the restaurant is Woodward Takeout Food (lovingly abbreviated to WTF), a counter-serve offering a huge selection of homemade baked goods, signature sandwiches, soups, and salads.