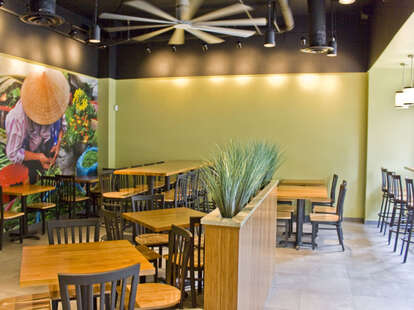 Did you ever watch those "Join the Navy, see the world" ads and think: "Well, I'd definitely join if it more explicitly said that I got to eat the world too, and then come back and channel my experiences into running a successful restaurant"? Well that's the difference between you and the guys who figured it out themselves, and now own BONMi.
Opening from a crew of restaurant industry vets bonded by their shared status as military and foreign service...vets, Bon was inspired by food they saw abroad (probably mostly in Vietnam...), and dishes up exotic goodness in a counter service-style diner decked out w/ bamboo furniture, a Vietnamese street market mural, and a propeller-y looking Big Ass Fan, not to be confused with everyone in the stands at a Houston Texans game.
The eponymous sandwiches are served on a light baguette (w/ the requisite pickled veggies/ cucumber/ chili-lime mayo), and include sous-vided protein options like pork meatball, brisket, and five-spice chicken, also what you call a guy who orders five naughty cable channels and refuses to tell his wife.
They've also got Summer Rolls, with vermicelli rice noodles, julienne vegetables, and your choice of chicken or butternut squash, both of which are excellent choices if, like people nobly joining the armed forces, you're willing to give up a little mi time.