North Dakota's actually got a few things going for it, like Fargo. And new-school rapper Wiz Khalifa. And old-school rapper Bismarck-ie, probably. Now that great state is bringing you something even tastier, with Farmers Fishers Bakers. With views of the ice rink and fire pits a plenty, the GT Waterfront's newest is a collab between the Founding Farmers folks, and (interestingly) the North Dakota Farmers Union, who're sourcing goods from 42,000 family farms across the country to cook up amidst a farmhouse vibe (rolling pins, tractor tires...) and in an patriotically flagged "bakery studio" -- so yeah, expect sweet jams. Flour from Grand Forks, honey from New Rockford, and well, a lot of other stuff from other places you don't know in North Dakota (and elsewhere) go into deliciousness like "long bone cowboy style" chicken with peanut-cider slaw & grits, corn tacos with grilled pork belly, and stuffed Maine lobster with twice-baked root veggies & succotash. When you're done operating heavy farm equipment, indulge in the "Tiki Redux" and "Beer Cocktail" menus, replete with Circa '64 Zombies, Scorpions, and a wheat beer/raspberry syrup/vodka joint called The Greyhawk. Or toss 'em in the trash and let their "cocktail gurus help you discover off-menu options to tantalize your taste buds" by opting for the "Dealer's Choice" -- just make sure Wiz doesn't bump ahead of you in line after hearing the word "dealer".
Recommended Video
Potato Skin-Breaded Queso Balls Will Make All Other Apps Obsolete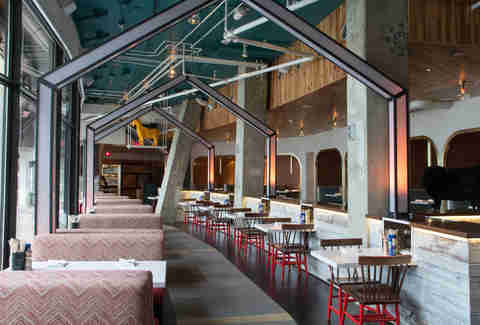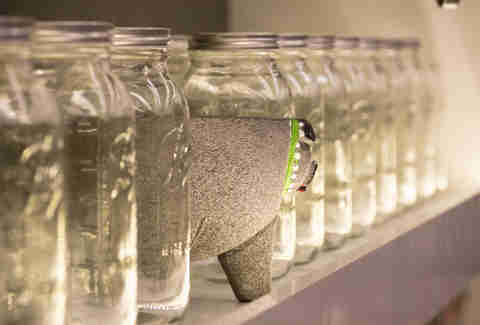 Previous Venue
Next Venue
Venue Description
1. Farmers Fishers Bakers
3000 K St NW, Washington, DC 20007
Yes, you guessed it, there are farmers, fishers, and bakers involved in this Georgetown restaurant to bring you fresh seafood, sushi, steak, and baked goods (like beignets with raspberry coulis, hot fudge sauce, and bourbon caramel sauce). A true farm-to-table set up, Farmers Fishers Bakers has a partnership with the North Dakota Farmers Union to provide a seasonal menu of regional farm-sourced comfort food.