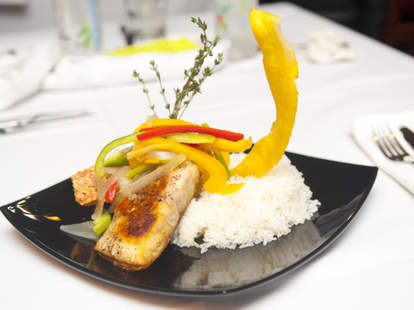 Named for Jamaica's international phone code, 876 Cafe's presumably super dialed in to Caribbean cuisine, which's why their white-tableclothed dining room is kept beachy sparse (ukuleles on the wall, not much else), and is bookended by a veranda out front and a "swanky WiFi lounge area" in the back, where you won't need a password, as they dread locks.
For dinner, they're grilling up coffee-spice-rubbed hanger steak with Jamaican Blue Mountain demi & mashed sweet potatoes, pan-seared red snapper escoveitch w/ a julienne vegetable sauté, and, with spiced tomato chutney, peppered shrimp ready to "peel & eat", unlike a Passover dinner guest, who's ready to spiel and eat. If you're looking for a lunchtime getaway, they've got BBQ beef short ribs served alongside cassava fries, the obligatory grilled jerk chicken, and more unexpected "island gnocchi" in a fire-roasted red pepper/ coconut rundown sauce called "Rasta Pasta", also what they serve at Bob Marley's Punky Rigatoni Party.
Though things are dry for now, they're hard at work securing their liquor license, meaning your Caribbean siesta will soon be full of coconut-cupped, tiny-umbrella'd drinks, assuming they get things up to code.