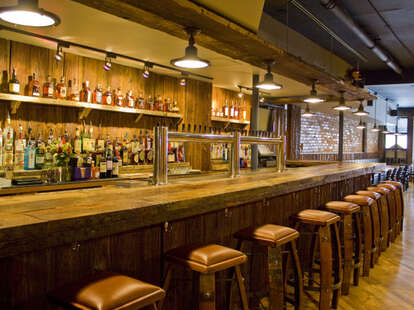 When people think of Arkansas BBQ, they think of Carolina pulled pork, Kansas City ribs, Texas brisket... wait, Arkansas does BBQ? Apparently so, at Smoke & Barrel.
Opening today from the guy behind Meridian Pint, Barrel's transformed Asylum's top floor into a haven of all things bourbon-y, crafty, and smoked, with an AR-imported pitmaster dishing his best in a wood-heavy interior rocking stools cut to mimic the curvature of barrel staves, and a bar made out of Amish mushroom wood -- also what's behind some of the craziest Rumspringa stories ever!!
All the meat's actually smoked w/ reclaimed bourbon barrels (presumably after they removed Rip Torn from desperately licking any last traces) and is closest in style to Memphis, with goodness including espresso-rubbed beef brisket, pulled pork shoulder, ¼ dark or light chicken, and smoked sausage; there's also super-serious ribs basted w/ their spicy chipotle honey butter, or done up "all rub".
For beers, they've got 25 cans, and another 25 drafts, like an American imperial from Evil Twin Brewing called Soft Dookie, Royk Uten Ild "smoke beer" from Norway, and a tripel from Stillwater called Rule of Thirds, which Kirstie Alley insists is "always get them".
And to ensure you're ready for the downstairs dance party when Asylum starts getting weird, there're 45 bourbons and whiskeys, plus beer/shot combo "boiler crafters" like "Governor Hal" with Woodford Reserve & Gubna, and "Scotchy Scotch Scotch" with Glenfiddich and Old Chub, not to be confused with Old Chump, which is now what you can call anyone who says that all good BBQ comes from Carolina, KC, or Texas.