It's not easy trying to faithfully transplant the best parts of a culture to somewhere else in the world, unless you've hired the Epcot guys -- have you tried the cured trout at the Norwegian Pavilion?! Proving DC can do it even better with Mexico's tacos and tequila: El Centro DF, opening today for your Mayo-ral pleasure

From the masters behind Masa 14, Centro aims to capture the "energy" of Mexico City (which apparently comes from awesome tacos and Mexican fire water) via three floors of raw concrete, Aztec masks, and tables swathed in old Mexican newspapers under glass, unlike modern American newspapers, which are just under water. The first floor houses the Taqueria, where sit-down or to-go options include tacos from the standardly mouth-watering (al pastor, carnitas) to the intriguing (beef tongue, grilled nopal cactus), plus chef's special entrees like smoked beef short ribs in citrus-achiote pibil sauce, a chimichurri'd carne asada with sweet corn tamal, and a ground beef chile relleno with lightly battered chile poblano that swears it just fell down the stairs, OK? Subterranean swilling's covered by the equally rad Tequileria, which stocks 200 tequilas & mezcals, and pours crafted cocktails like the blanca/ blood orange/ bitters "Paloma Naranja", the cherry Kijafa/ Marjoram-Ginger lime/ El Jimador "Cereza Blanco, and the reposado/ spiced grenadine/ pineapple juice "Agave Punch", which given the plant's pointy leaves, always comes spiked

And if you've got the stamina to stair climb after all that, they've also got a dinner-sitting, two-bar'd, gorgeous split-level roofdeck, ensuring it's you that's cured!...of everything except your ravenous desire for fermented Norwegian salmon.
Recommended Video
Where to Get the Best Waffle Fries You'll Ever Eat
Previous Venue
Next Venue
Venue Description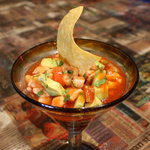 1. El Centro D.F.
1819 14th St NW, Washington, DC 20009
Seeking a new adventure, the masters behind Masa 14 opened Centro to challenge themselves to capture the energy of Mexico City. That energy, apparently, comes straight from superb tacos and tequila. With three floors of raw concrete, walls adorned with Aztec masks, and tables glossed with vintage Mexican newspapers, Centro is undoubtedly a success -- and that's before we even talk about the menu, which features great fish tacos, chicken tamales, and a host of tequila tasting menus. Mexico City rules.