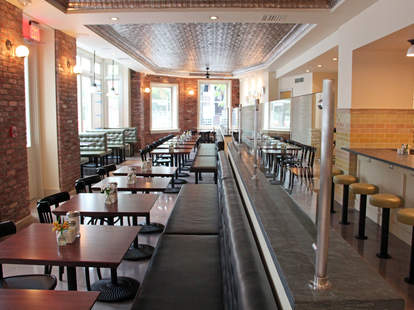 They say nothing good ever happens after 2, but can you really take the advice of people who apparently peaked when they were babies? Show them what's up by walking (ha! let's see you do that at 1 1/2!) down to The Coupe whenever the hell you please, 'cause it's open 24hrs a day.From the good guys behind Tryst, Open City, and the Diner, Coupe takes over an entire Columbia Heights block with casual antique furniture, a granite bar facing exposed brick, and green booths & diner stools ready to buckle under your weight after you consume:
Food: Breakfast all-day takes an intriguingly Asian bent (which, by the way, should technically be among the options at the International House of Pancakes, but whatever) with a pad Thai omelet, then just goes nuts with cheddar grits & Creole-braised short ribs. Evening entrees are highlighted by "Mississippi" confit rabbit pot pie, and obvious late-nighters options include mac & cheese in a five-dairy mornay sauce.
Drink: Start the day off right with Counter Culture coffee, or start the day off Rip Torn with cocktails served in mini soda bottles, like the Georgia Comforter Filibuster (basically, bourbon & rosemary-smoked maple syrup). And for beers, the16 drafts count Young's Double Chocolate Stout and a Bellhaven Scotch ale called Wee Heavy, aka the only thing people under the age of 2 can actually do impressively.