Southwest finally gets classy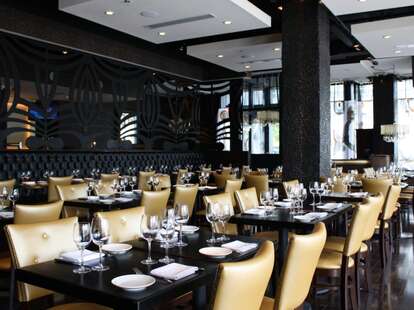 There aren't that many reasons to hit Southwest, and when you do, the plane is likely to fall apart, so please be careful. Because DC's Southwest quadrant also has some holes to fill, check out Station 4.
Anchoring the new Southwest Waterfront Station, 4's a swanky bistro serving up "global cuisine" from a chef late of Barcelona's molecular gastronomy standout El Bulli, and boasts a 40ft gold-painted bar, columns and walls shimmering with black river stones, pushpin leather couches, and teardrop-crystal chandeliers, meaning they've done horrible, horrible things to less murderous chandeliers. Worldly cuisine comes via a seafood stew made "San Francisco-style" in a saffron-tomato broth, a foie gras risotto w/ porcinis in a sweet sherry reduction, and a seared Hudson Valley duck breast served in a passion fruit-lavender gastrique and dubbed The Flying Duck, also a contortionist technique that the laser-dancing dude from Ocean's 12 did like seven times. The cocktails are similarly global, with an "emphasis on classics" like the New Orleans Deauville with Hennessy/ Calvados/ Cointreau, a mix of cachaca & Brazilian coconut milk called the Batida, and the Pegu Club with dry gin/ Cointreau/ lime juice/ bitters, which was originally made at a bar in one of the British Empire's "furthest-flung outposts" -- though considering their sissy cricket-arms, that probably just means somewhere in Ireland.
To bolster your meal, they've also got crab mac & cheese w/ smoked gouda and white truffle oil, and a spicy cajun remoulade w/ duck fat fries, both part of a menu section made of something that Southwest Airlines one day hopes to attain: solid sides.