Stealing NY's best at forkpoint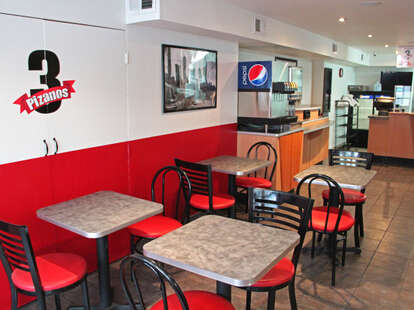 DC is rarely mentioned when other cities debate about who has the best pizza, which is fine, because all that squabbling will continue to distract them from the fact that 3 Pizanos is totally stealing all their ingredients.
Opening Monday, the sparse, unassuming Dupont parlor you see above is actually home to an ingredient-smuggling ring most nefarious, with three pie-lovers importing truckloads of Philadelphia-baked sub rolls and New York spring water, which apparently has the perfect calcium content for fortifying dough that results in a crispy, crunchy thin crust. Said crust then gets dumped with toppings like feta/gyro meat/mozza for the Greek; cut, cased & ground pig for the Meat Lovers; and meatballs/'shrooms/onions for the "New York Envy", so expect to have to fight Hoopz and Pumkin to try and get a slice. Not content to just drain the Big Apple dry, the aforementioned rolls are from Philly's Amoroso's Bakery (a stalwart since 1904), and get stuffed with grilled rib eye steak, provolone, and onions; meanwhile, they sort of just steal Greece's style with the tzatziki/double lamb "Super Gyro", which'll leave you exclaiming "It's a bird! It's a plane!... which is something whose seats I can't fit in anymore, because I just ate this enormous gyro!".
If you're somehow still hungry, they've also got traditional char-grilled souvlaki with Mediterranean-marinated chicken or pork, but not beef, as they leave that to other, more contentious cities.